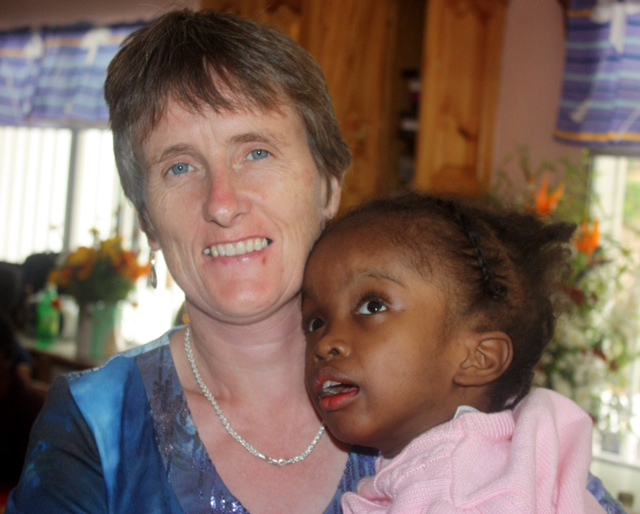 NPH is privileged and honored to announce that Gena Heraty has won the Irish Red Cross Humanitarian Award! Gena was unable to leave Haiti due to the civil unrest but appeared via video to accept her award. Her two nieces were in attendance to represent her. We are so grateful that Gena has been caring for the most vulnerable in Haiti for over 26 years. Truly she embodies a life of kindness.
Alan O'Keeffe
Violence and chaos on the streets of Haiti stopped Gena Heraty from travelling to Dublin to pick up a major humanitarian award last night.
The Irish woman has spent the past 26 years caring for vulnerable young people with disabilities in one of the poorest countries in the world.
"As human beings, we should never lose the opportunity to be kind," said the 50-year-old Mayo woman in a telephone call from Haiti to the Sunday Independent.
She was named Humanitarian of the Year at an event last night in Dublin organised by the Irish Red Cross.
Civil unrest has exploded in Haiti in recent weeks where protest demonstrations demanding the resignation of President Moise have deteriorated into burnings, lootings, and violence.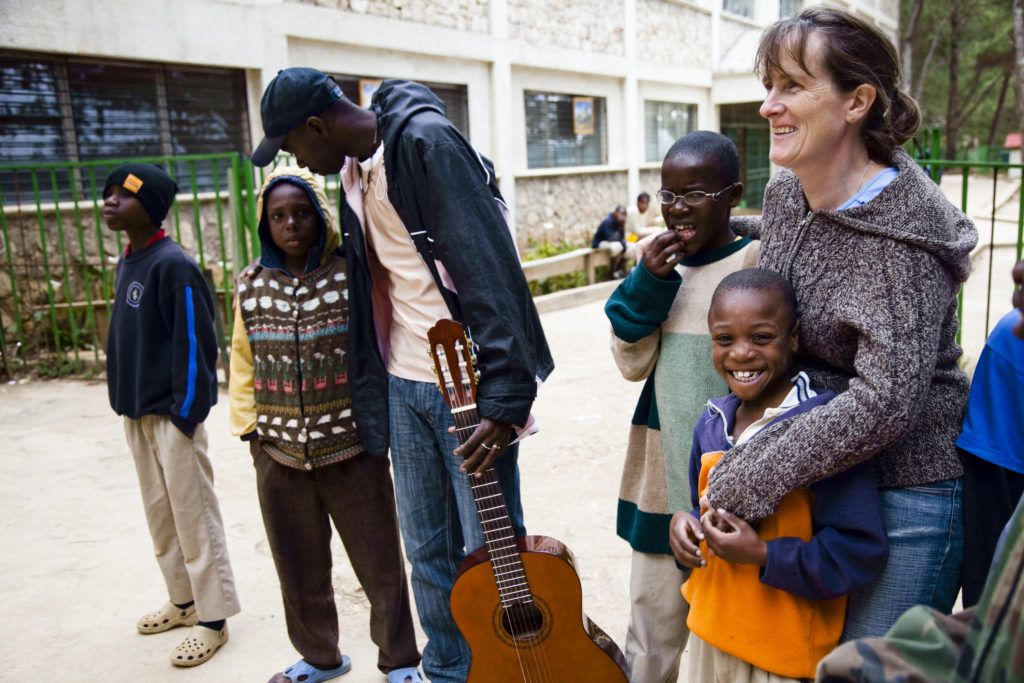 Ms Heraty is director and co-founder of a home for 30 young people with neurological disorders within a larger orphanage compound run by a charity at Kenscoff in the hills above Port-au-Prince.
The disorder and chaos on the streets would have made it too dangerous for her to travel to the airport to fly to Ireland to collect the award at the Humanitarian Awards Ball.
"Things are too unstable at the moment and there's a risk of everything going up in smoke. I wouldn't leave the children in such circumstances. A captain doesn't desert a sinking ship," she said.
She accepted the award on behalf of all her team working with disabled children in Haiti. Among the few foreigners who work with a big Haitian care team are Jacinta McGuane from Ennis, Co Clare, and Michelle Johnson from Dundalk.
Ms Heraty grew up in the townland of Carrarevaugh, near Liscarney, around 11km from Westport. She is one of 11 children. As a child, she took to heart what her parents told her: "Treat others as you would like to be treated."
After getting a business degree in the University of Limerick, she worked as a volunteer with the homeless with Dublin Simon.
She trained to be a lay missionary and travelled to Haiti where she has worked with the poorest of children as part of the Nos Petits Freres et Soeurs (our little brothers and sisters) charity
Twenty-six years later, she still works with the most vulnerable and is known all over Haiti for challenging prejudice against people with physical and intellectual disabilities.
"I'm here to stay," she said.
She was 23 when she arrived in Haiti. She had imagined then that she might marry and have children. But her involvement in caring for poor and disabled children in Haiti caused her to abandon any such dream in favour of devoting her life to children with special needs in Haiti.
Ms Heraty and her colleagues have created services to ensure children with disabilities are not abandoned.
She has seen much suffering, deprivation and death over the years. More than 20 staff of the charity were killed in the earthquake of 2010 that claimed the lives of an estimated 200,000 people in the Caribbean country.
She said there was huge frustration among the people at the dire conditions in the country. Many people were not putting their trust in the government but all seem to find some relief in their widespread belief in God.
"Our world is lacking in kindness. People need to be actively looking for ways to be kind," she said.
"People need to care for the homeless everywhere, in Ireland too. We all need to care for each other."
She wanted to thank the many people in Ireland who support the work she and her colleagues do.
Source: Sunday Independent
From NPH International Board President, Reinhart Koehler, "Congratulations Gena. I know that your work and motivation does not depend on awards, and like our founder, Fr. Wasson, you most likely will say, 'The children deserve this award, because they are the true heroes.' But for me, you are a heroine, too. Your love and loyalty to the children you care for is inspiring. And your outreach to support special needs children and their families is a true gift to humanity."
See what Gena and her team do at the NPH Haiti Special Needs Programmes