Serving the Most Vulnerable
Vulnerable children and families in Haiti receive health care, an education, and loving family care from NPH, with support from people like you.
Haiti is the poorest country in the Western Hemisphere, with 80% of the population living under the poverty line and 54% in abject poverty. Seven out of 10 Haitians live on less than US$2 a day, according to the International Red Cross.
For more information about circumstances in Haiti, see this fact sheet from OCHA (United Nations Office for the Coordination of Humanitarian Affairs).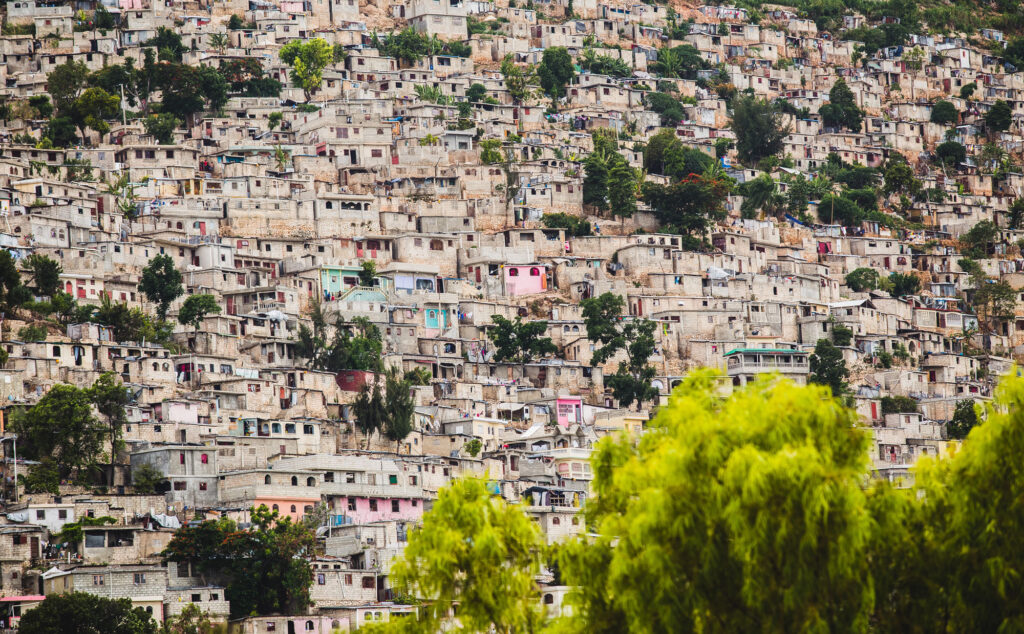 NPH has been in Haiti for more than 30 years. The NPH programmes are vast and include multiple homes for children, healthcare campuses and various educational facilities in Port-au-Prince and Kenscoff.
Residential care and community support
In 1987, Father William Wasson founded Nos Petits Frères et Sœurs (NPFS), French for "Our Little Brothers and Sisters," a home for orphaned and abandoned children in Kenscoff.
St. Helene is a lush and cool location about 25 miles up the mountain from the capital of Port-au-Prince. St. Helene is home to over 430 children and has a elementary and secondary school on the property, chapel, and other amenities.
An additional 350 children from the Kenscoff community attend the onsite school which is operated by the Salesian Sisters.
Kay Christine is located inside the St. Helene complex and is home to over 30 children and adults with neurological conditions and special needs.
The team
NPH Haiti is led by Fr. Rick Frechette, along with over 800 dedicated staff.
St. Damien – Haiti's premier pediatric Hospital
In Tabarre, on the outskirts of Port-au-Prince, stands Haiti's premier pediatric hospital, St. Damien. As part of NPH's mission to truly serve the needs of the poorest children, Haiti National Director, and doctor, Father Rick Frechette started our first medical center in 1987, along with Fr. Wasson. The new St. Damien Hospital was opened in 2006 – a 75,000 square foot, 100-bed facility with an emergency room, surgery, infectious and non-infectious disease wards, a dental clinic, outpatient clinic, public health, maternity, neonatology, oncology and HIV program. Prior to the January 12, 2010 earthquake, the hospital treated more than 30,000 patients yearly which has increased to offering 96,000 services to women and children, due to the need and collapse of other medical centers.
Healthcare programmes to combat injustice
The healthcare programmes of NPH Haiti strive to offset the injustices of poverty and unemployment, which make healthcare inaccessible for many poor people. Poverty imposes a tremendous burden of sickness and suffering on many children. In an effort to help precisely these children, St. Damien offers both children of poverty, and children of any social level in emergent distress, quality and dignified healthcare. St. Damien always seeks to include parents in this care through ongoing dialogue, on-site opportunities for education, and encouraging any level of material support they can offer for the care of their children.
Father Wasson Angels of Light – safe haven for children
Under the NPH umbrella, the Father Wasson Angels of Light (FWAL) programme founded the St. Anne Baby House and St. Louis Home. These homes have been a safe haven for the displaced children from Haiti's devastating earthquake in 2010. Today, over 130 children under age 14 receive care, education and spiritual formation in the loving tradition of "St. Helene," our flagship facility in Kenscoff, Haiti. Many of the grown children of St. Helene now serve as caregivers and teachers to this new generation of NPH children.
St Anne: a permanent home for children under 6
St. Anne is currently home to 38 children under 6 years of age. A temporary home was rented until July of 2012, when the family moved into their newly constructed permanent residence in Tabarre. The St. Louis housing complex is home to over 100 children 6-14 years old. These children now live in a permanent housing complex with plans for administration buildings, clinic and kitchen.
Primary schooling for the community
The FWAL free primary school serves the children of St. Anne, St. Louis and 600 children living in tent cities and the surrounding community. FWAL was launched in 2010, soon after the earthquake due to the collapse of 3,000 schools in Port-au-Prince and the dire need for providing children safe places to play and learn. FWAL set-up make shift day camps and schools in 13 locations throughout the city. Food from the World Food Program supplemented by NPH, provided a free meal to all children enrolled in the program. A permanent site for the school was developed in 2011, and in January 2012 the FWAL primary school was inaugurated.
Supporting sustainable livelihoods
A specialty programme of FWAL is Lakay se lakay ("Home Sweet Home"), which began in 2012. This is a social services initiative for children who have family members living in unsafe, unsanitary, and untenable situations. The programme provides supervised case management support to one family at a time, helping them to create a sustainable existence through small business, relocation, and education. Our goal is that over time, this process will enable the St. Louis older youths to re-enter family life, thus reinforcing family and community and extending the scope and power of the proposed aid.
Special Needs
NPH runs 4 facilities all dedicated to providing care and treatment for people in Haiti with special needs:
Kay Christine: residential care
Kay Germaine: special education school
Kay Gabriel: rehabilitative therapy centre
Kay Eliane: a safe and educational environment for graduates of Kay Ste Germaine School and Kay Christine young adults
Read more about NPH's longstanding commitment to people in Haiti with special needs, as well as the facilities where we offer such services.