St. Damien's Rita Merli maternity program opened its doors right after the 2010 earthquake. More than 50 hospitals were damaged in that disaster. St. Damien treated about 2,000 high-risk pregnancy patients in the first year alone. The program has developed throughout the years to focus on high-risk pregnancies in conjunction with the neonatal unit. Since 2015 it has been led by program director Dr. Inolson Davilmar, who studied medicine at Université d'État d'Haiti (UEH) and spent 10 years with Doctors Without Borders.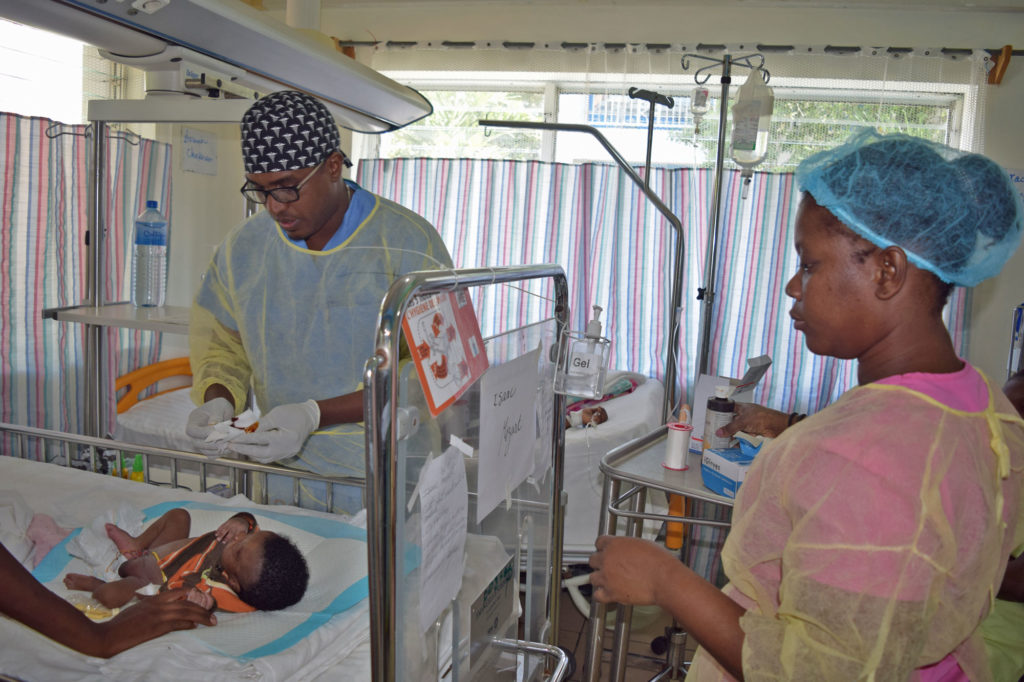 Haiti's only high-risk maternity program
The Rita Merli program delivers approximately 3,000 babies per year (roughly 250 a month). The staff comprises 15 part-time and full-time obstetricians, 8 midwives, 24 nurses, and 24 other professional support staff. Each month the programme receives several volunteer clinicians from Italy, the Netherlands, and other countries. The Rita Merli team collaborates closely with the St. Luke Foundation for Haiti, Manitane Women's Health Center, and St. Luke Clinics in the slums.
Specialized care for high-risk patients
According to Dr. Davilmar, "the kind of care we provide at St. Damien is specialized care, and the pregnancies that we receive are all high risk. For normal deliveries, patients are referred to other hospitals. Here in the maternity wards, we have experienced specialized gynaecologists. Complex cases such as bleeding, eclampsia, diabetes, are all difficult cases to manage. That's why St. Damien provides the care that mothers cannot find anywhere else in the country."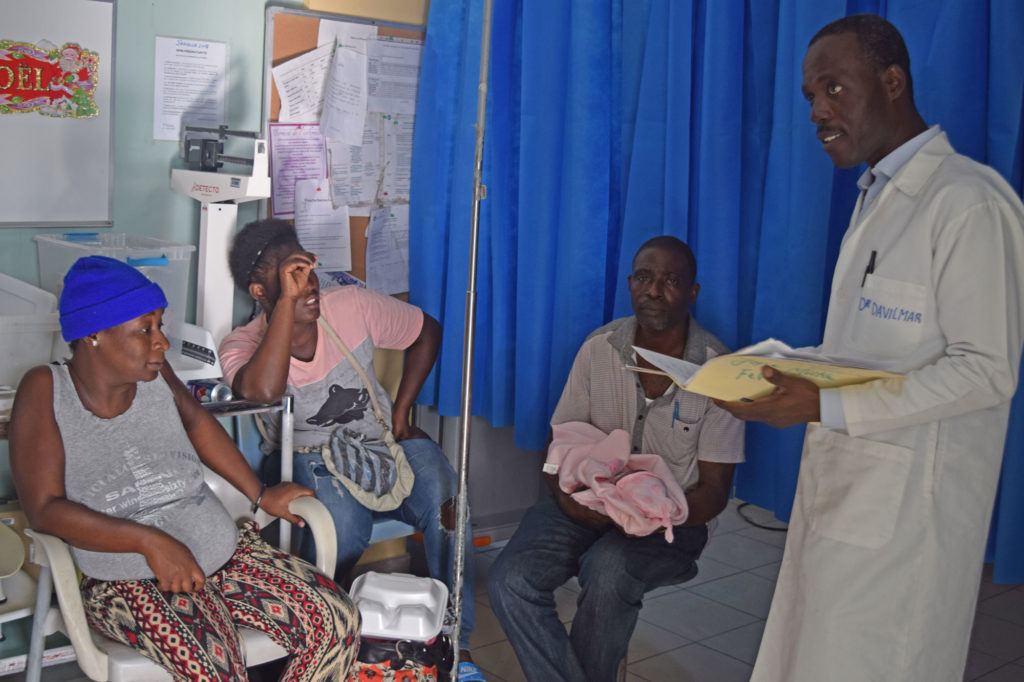 To keep our staff up-to-date on patients, there are 4 pillars of work:
High-level sonography: regular sessions of sonography utilization and training for staff.
Cardiotocography (CTG): used during pregnancy to monitor the foetal heart and contractions of the uterus. It is most commonly used in the third trimester. An abnormal CTG often indicates the need for more invasive investigations and potentially an emergency caesarean section.
Neonatology: the St. Damien neonatology unit is one of only 5 such departments available in the entire country. Since neonatal deaths account for half of the national child mortality rate, St. Damien is thrilled to bring this valuable care to Haiti. And progress has been made: Haiti's paediatric mortality rate has been reduced by 20%, but the neonatal death rate remains unchanged for the last 15 years. St. Damien focuses on saving infants from 26 to 27 weeks' gestation.
Staff training: our staff is constantly being trained through study abroad in Italy, the Netherlands, Canada, and the U.S. Also foreign clinical specialists visit to work alongside our teams in Haiti.
According to Dr. Davilmar, in the past there were only 3 high-quality maternity hospitals in Haiti. One was located in the Delmas 33 neighbourhood of Port-au-Prince and operated by Doctors Without Borders, but it closed in 2018. The others are University Hospital in Mirebalais and our St. Damien.
Far more patients, straining resources
The closure of some healthcare facilities and the poor performance of others have greatly impacted the volume and types of cases that come to St. Damien. Dr. Davilmar compares statistics from October 2017 to January 2019. "We received 751 pregnancies, but unfortunately we were able to admit only 270 due to a lack of beds. We transferred those overflow patients to other hospitals. In October 2018, the number of patients received increase by 40 percent to 1,054 pregnancies. We were able to admit just 319," he says.
The main cases NPH now receives are eclampsia, bleeding, multiples pregnancies and births, and women who have had C-sections with prior deliveries. These conditions require more care and carry more risk than standard cases. Other complex cases commonly treated include heart disease, HIV, and respiratory diseases.
The ward averages 150 deliveries plus 100 C-sections each month. In future, the programme hopes to increase the number of beds and add an intensive care unit.
A broader perspective from Father Rick
Fr. Rick Frechette, Advisor to NPH Haiti, provides a broader perspective. "I think the expansion of hospital services, maternity, and neonatology is pretty impressive. There were already places in Haiti that were doing maternity, although a major one fell in the earthquake [2010]. But ours does high-risk pregnancy, so that's a whole different ball game. And it's a large neonatology unit. There is maybe one other in Port-au-Prince, but it's about 3 beds and ours is 50 beds. But the point is it brings new training and new capacity to the country on how to deal with these premature babies so it's not only caring for these children, but training people in a new science and gaining a lot of experience in management of a completely different population."