If you've been following life at the NPH Haiti Special Needs programmes for a while, the name Darlene Milord will be familiar.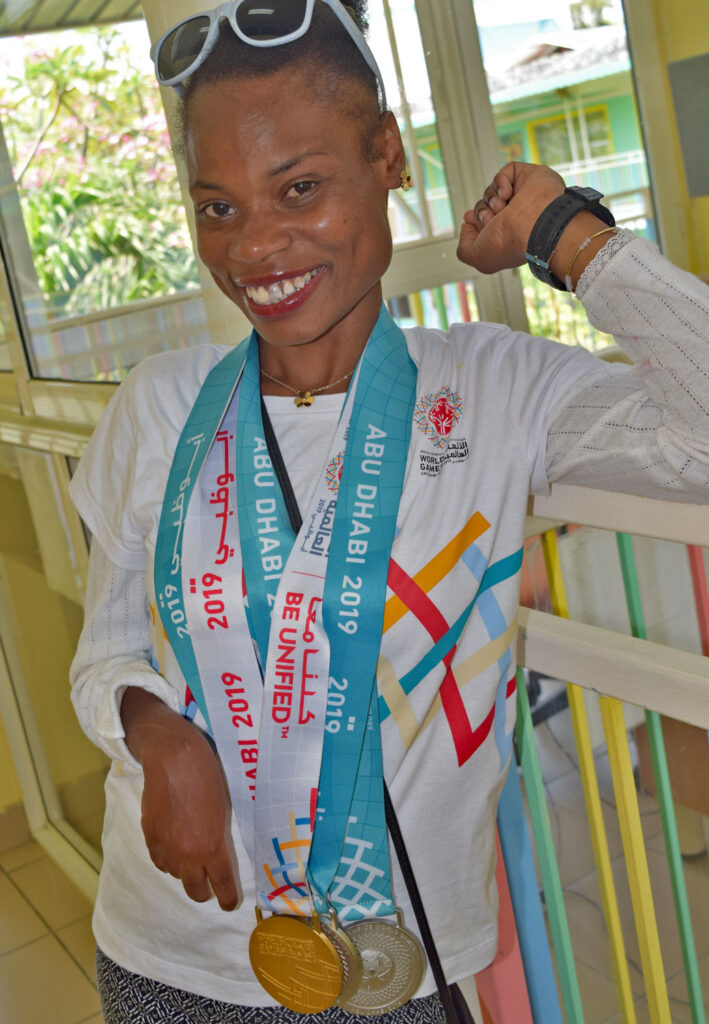 Darlene grew up at NPH. She has hemiplegia, a neurological condition that affects strength and control in the right side of her body. She lives at NPH Special Needs in Haiti.
That didn't stop her winning a gold medal for equestrianism at the 2019 Special Olympics World Summer Games.
We thought you might like to hear about Darlene's life as an equestrian in her own words.
How has horse-riding changed your life?
I feel great when I horse-ride. Riding has given me confidence and the possibility to do more than I ever dreamed. I have new friends from many countries. When the school children at Kay Ste Germaine Special Needs School go riding, I teach them skills such as how to speak to the horses and touch them and how to sit and hold the reins correctly.
Where have you travelled for events?
Thanks to my training in horse-riding at Centre Equestre Chateaublond in Haiti, I have travelled to Denmark, Abu Dhabi, and to Florida many times to compete at the West Palm Beach Special Olympics event.
What competitions have you won and which awards have you received?
In 2009 I received the FEI Award for Rider Against All Odds. At the West Palm Beach Special Olympics annual event, I have won many ribbons over the years, this event helped me to prepare for competing at the Special Olympics World Games.
A special moment during the Special Olympics World Games in Abu Dhabi?
I felt so proud when I won my first Gold medal at the Games. Everyone was congratulating me and I was so happy too for those who travelled to see me compete, and for my coach. 
What are your hopes for Orlando 2022?
I would like to see many more Haitians with special needs competing at the games in Orlando. For myself, I hope to win more gold medals and inspire more Haitian girls to try sport and to do their best.
What training do you do?
As a classroom assistant I participate in the physical education lessons with my students, I walk and do exercises in the evenings, and I go horse-riding once per week. I like to dance, which helps to keep me fit too. 
How about your role as the Athlete Representative on the Board of Special Olympics Haiti?
I am the voice of the athletes, I try to encourage them to do their best, and I appear on TV and Radio to speak about Special Olympics and the importance of participation and accessibility.
Over to you
We hope you enjoyed Darlene's story of accomplishment in the face of adversity.
You can support the NPH Haiti Special Needs Programmes and make a loved one happy at the same time. Order some of our handcrafted greetings cards and you'll keep the smiles on our residents' faces.